9120 Controller with Data Logging
Single or dual loop set point controller used in carbon, oxygen, millivolt, nitriding and dual loop control applications.
This versatile instrument is supplied with Ethernet and supports Modbus TCP host communications and can support up to 25 slave serial instruments via Modbus RS485. The 9120 comes with a web server for thin client control.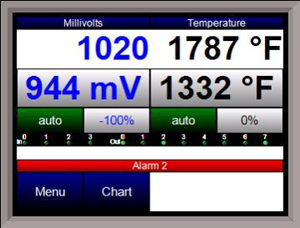 Temperature Controller and Digital Chart Recorder
3.5" touch screen interface (also available in 5.7" and 12.1" sizes)

DIN rail mount

8 relay contacts

Analog Outputs - PV Retransmission

Multiple PIDs

Overshoot suppression logic

Auto tuning

PID switchpoints

Two (2) RS485, RS232, Ethernet
4-20mA current control output

Two (2) discrete inputs

24 VDC power supply

Note: The 9120 does not run recipes

Software Included:
TS Manager - Data management for touch screen flashcard. Remote data viewer, historical data backup, SuperDATA integration.
Configurator - Remote setup and configuration of controller.
(Q1) I have an Internal Comms Error on my screen. What do I do?
This message is generated when the HMI does not have communications to the controller inside the panel. Possible reasons for this include:
Loss of 24VDC power to terminals 1 (-) and 2 (+) on the controller.
A bad communication cable between the HMI and the controller.
(Check by ringing out the cable end to end, or checking for continuity.)
Bad connection between the HMI and the controller.
(Check both ends to make sure they are securely connected and not loose or damaged.)
Cable connected to wrong port on back of HMI.
(COM1=232 and COM3=485)