Atmosphere Furnace Systems
Super Systems provides furnace control panels for new and existing furnace applications. Our control systems are designed based on furnace specifications and customer requirements. We have addressed almost every atmosphere application in heat treating with various control packages. The controls are designed to meet industry specifications such as AMS 2750, 2759 and NFPA. We build control panels that are efficient for operators to use, conserve floor space and include all drawing sets and installation services.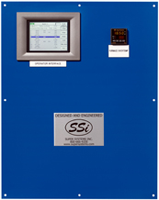 Features
SSi's 9000 Series dual-loop controller (Ethernet and RS485 Modbus RTU communication ports)
Recipe control for easy-to-program and easy-to-run cycles
Atmosphere and Temperature Control
User-defined events and alarms
PLC for furnace mechanical movements and safety circuits
Furnace hi-limit controller (7SL)
Customizable HMI with built in data logging. Meets AMS 2750 G requirements.
Step-based recipe control
Sophisticated alarming for atmosphere and temperature deviation, gas flows and furnace mechanicals
All power control for furnace including fusing, disconnects, SCRs
Complete control panel or existing cabinet retrofits
Fully programmable (lights out operation)
Full engineering services, electrical drawings, installation and metallurgical evaluation