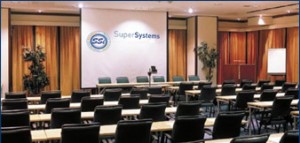 Super Systems is pleased to again offer product training classes in 2023. The 2-day training classes provide fundamental training on products for the everyday user with Day 2 providing in-depth training on setup, configuration, and SuperDATA screen modification and development. If you are a user of SSi products such as the 9000 series of products, recipe management, Configurator, AC20s, temperature controllers, and SuperDATA, this is an opportunity you won't want to miss. Looking for additional training on something not highlighted? Give us a call to discuss!
Learn how to:
Create recipes to shorten cycle time and ensure properly heat treated parts
Use atmosphere troubleshooting techniques
Fully utilize touch screen and SuperDATA notes features to allow for quick access to information
Add and remove notes from charts
Troubleshoot communication issues
Perform backup and restore of configuration and recipes
Receive email and text notification

March 21-22, 2023
June 20-21, 2023
September 19-20, 2023
December 12-13, 2023
The price of the training is $370 per person. Training will be held at Super Systems headquarters in Cincinnati, Ohio. Lunch will be included both days.
Click here to register.
Training Agenda and Map
Day 1: User Training (8:30 a.m. – 4:30 p.m.)
SuperDATA Overview and Components
SDIO and Channel Status Information
Log Files and Location
SD Recorder



Notes, users and passwords


Using SD Recorder


SD Recorder2



Notes, users and passwords


Using SD Recorder2


Review of other SSi Software offerings



SDStatus


Standard Load Entry


FURS


Configurator Program



Setup and configuration of instruments


Backup/Restore instruments


Calibration and offsets


Recipe Management



Review Opcodes


Edit Recipe


Recipe Distribution


Day 2: Developer Training (8:30 a.m. – 3:00 p.m.)
SuperDATA Overview and Components
Installation

Communication file setup



Syscps.cfg file creation, configuration and
definition


Inparm channel definition and use


Modbus Register Maps and Reading Data



SSi Instruments


HC900 Loops and Signal Tags


Generic Modbus Reads


SDIO and Channel Status Information
Log Files and Location
Realtime and Realedit



Overview


Configuration files


Screen development


OPC Bridge



Setup and use with other OPC Servers


Lunch will be served during the session
SSi recommends the following hotels for lodging:
Hyatt Place – Cincinnati Blue Ash (When booking a room, please ask for the Super Systems/SSi rate)
11435 Reed Hartman Highway, Cincinnati, OH 45241
513-489-3666 / 800-833-1516
Hampton Inn – Cincinnati/Blue Ash
4761 Creek Rd, Blue Ash, OH 45242
513-791-2822 or click here for SSi rate